Gender equality - Facts and Figures
In the last few years the issue of women in Icelandic filmmaking has been a common debate in news outlets and on social media. The Icelandic Film Centre has gathered data on this matter and published it.
It should be remembered that, relative to our Nordic and European partners, the Icelandic Film Fund is small, as is our industry. On average, we are able to support only three to four feature-length fiction films per year, in addition to a handful of documentaries, short films and fiction TV series. This means that our sample size is also small, and large swings in data from year to year are possible. With this in mind, we think this data gives us some indication of the larger picture and the trends that have been emerging in recent years.
Figure 1 shows production grants for funded projects in all categories in 2018; feature films, documentaries, short films and fiction TV series. Female applications are little less than 30% of all applications received. As figure 1 shows, the success rate of female applicants is high.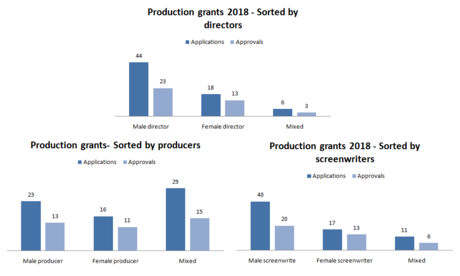 Historically, film making has been a male-dominated field, and efforts to correct this imbalance should be encouraged and applauded. All of the stakeholders in the industry have a role to play in this effort. For our part, the Icelandic Film Centre takes these questions very seriously, and we believe that we have a responsibility to encourage greater participation of Icelandic women in film making and to ensure that grant applications by women filmmakers are given equal consideration to those by their male counterparts, so that our funding practices strive toward a balanced representation according to gender.
Figure 2 shows production grants for funded projects sorted by the gender of directors and categories over the years 2013-2018. Female applications are approximately 20% of all applicants.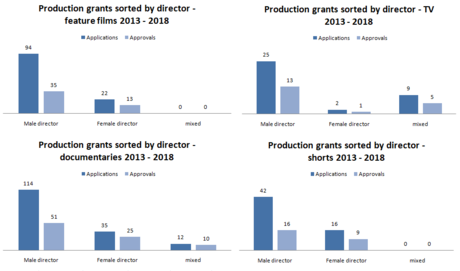 We are in agreement with our Nordic and European colleagues about the seriousness of this issue, and about many of the measures being taken by our sister organizations to bring more female voices to the filmmaking table. Stories by women, for women and about women are an essential component of any society and our understanding of our place in the world.

The role of our consultants
The Icelandic Film Centre employs several consultants who are experienced professionals in various aspects of the field of filmmaking. The consultants' primary responsibility is to read and evaluate grant applications and to advise the director of the Icelandic Film Centre on the merits of those applications for support. Support is given based on merit, and applications are evaluated according to time-tested, objective criteria used industry-wide. In addition, consultants are encouraged to keep in mind the criteria laid down in the Bechdel test, and to consider whether the script content of the projects they are evaluating promotes well-rounded, three-dimensional female characters. Applicants, too, are encouraged to apply these same criteria to the content of their work.

Better tracking of data
As we begin to upgrade to a new and more efficient electronic application system, we will also be initiating a new system for collecting and tracking data on applicants. As part of this system, applicants will be able to indicate the gender of the key participants in their projects, both at the application stage and when settling their accounts with the fund after production has been completed. This data will provide us with a clearer understanding of participation by gender so that we will be aware of, and be able to address, gender imbalances in a more timely manner.