Current news
Iceland at Toronto International Film Festival
The 45th edition of the Toronto International Film Festival will take place in both physical and digital version from September 10 - 19. The Icelandic Film Centre is part of European Film Promotion's (EFP) virtual EUROPE! UMBRELLA at TIFF Industry.
The Garden
by Ragnar Bragason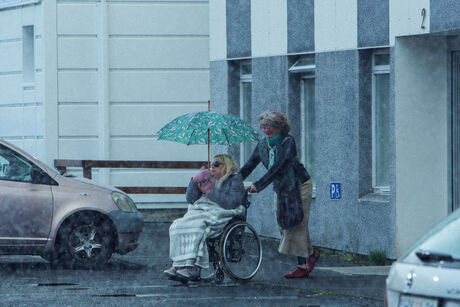 Indíana Jónsdóttir lives in a large apartment block full of immigrants, whom she despises, and makes her living by preying upon the public welfare system. In her small private garden, she tends to her award-winning laburnum tree. When her only son turns up with a foreign girlfriend, Indíana's world is upended.
Director/Screenwriter Ragnar Bragason
Producer Davíd Óskar Ólafsson
Coproducer Beata Rzezniczek
Production company Mystery Productions
Coproduction company Madants

Iceland/Poland
2020, 115 min., DCP

Sales contact
Davíd Óskar Ólafsson (david@mystery.is)
---
New films from Iceland
The following films will be premiering at the Reykjavík International Film Festival, which will be held in a hybrid format September 24 - October 4. 2020.
---
Shadowtown
by Jón Einarsson Gústafsson
Karolina Lewick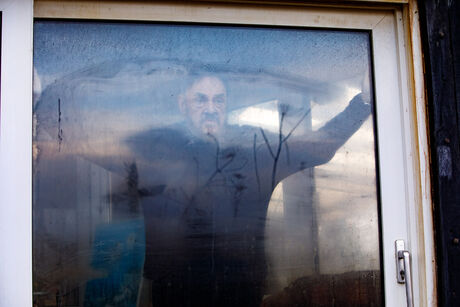 Maya discovers a 50-year-old tragedy that is still affecting her life today when she inherits a house from a schizophrenic grandmother she never met.
Directors/Screenwriters Jón Einarsson Gústafsson, Karolina Lewicka
Producers Hlín Jóhannesdóttir, Karolina Lewicka, Jón Einarsson Gústafsson, Leif Bristow
Production company Artio Films
Coproduction companies Leif Films, Ursus Parvus
Cast Brittany Bristow, John Rhys-Davies, Edda Björgvinsdóttir, Kolbeinn Arnbjörnsson, Inga María Eyjólfsdóttir

Iceland/Canada
2020, 90 min., DCP

Sales contact
Artio Films (artio@artiofilms.com)
The Hero's Journey to the Third Pole: A Bipolar Musical Documentary with Elephants
by Andri Snær Magnason
Anní Ólafsdóttir
An adventurous, sad, dreamy, funny, and ultimately bittersweet story of two people struggling with the balancing act of bipolar disorder and confronting the shame that they and other bipolar people feel.
Directors/Screenwriters Andri Snær Magnason, Anní Ólafsdóttir
Producers Hlín Jóhannesdóttir, Andri Snær Magnason, Halldóra Jóhanna Thorláksdóttir, Sigurdur Gísli Pálmason
Production companies Elsku Rut, Ursus Parvus, Ground Control Productions

Iceland
2020, 80 min., DCP

Sales contact
Hlín Jóhannesdóttir (hlin@ursusparvus.com)
---
Coming soon
---
Lamb
by Valdimar Jóhannsson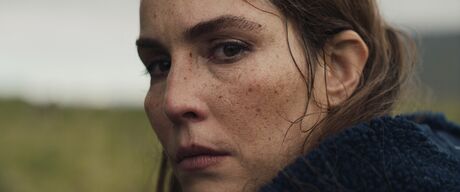 An Icelandic couple live with their herd of sheep on a beautiful but remote farm. When they discover a mysterious newborn on their land, they decide to keep it and raise it as their own. This unexpected development, and the prospects of a new family, brings them much joy before ultimately destroying them.

Director Valdimar Jóhannsson
Screenwriters Sjón, Valdimar Jóhannsson
Producers Hrönn Kristinsdóttir, Sara Nassim
Coproducers Piodor Gustafsson, Erik Rydell, Klaudia Smieja-Rostworowska
Production company Go to Sheep
Coproduction companies Black Spark Film & TV, Madants
Cast Noomi Rapace, Hilmir Snær Gudnason, Björn Hlynur Haraldsson

Iceland/Sweden/Poland
2020, 90 min., DCP

Sales contact
New Europe Film Sales (jan@neweuropefilmsales.com)
Quake
by Tinna Hrafnsdóttir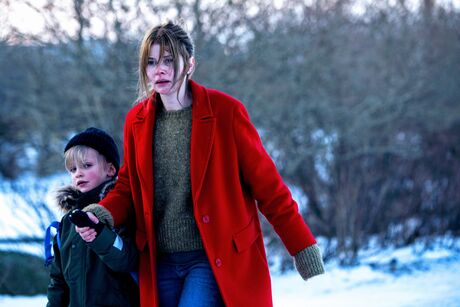 As Saga, a single mother in her late 30s, recovers from a sudden and severe epileptic attack, repressed memories start to return, revealing painful truths about her and her past.

Director/Screenwriter Tinna Hrafnsdóttir
Based on a novel by Audur Jónsdóttir
Producer Hlín Jóhannesdóttir
Production company Ursus Parvus
Cast Aníta Briem, Edda Björgvinsdóttir, Jóhann Sigurdsson

Iceland
2020, 90 min., DCP

Sales contact
Hlín Jóhannesdóttir (hlin@ursusparvus.is)
---
Currently in production
After a strong response by authorities to the challenges posed by the coronavirus pandemic, film and TV production in Iceland is back up and running.

Narrative features currently in production include Gudmundur Arnar Gudmundsson's Chicken Boy, about a teenage boy coming of age in a group of violent misfits; Ása Helga Hjörleifsdóttir's Reply to a Letter from Helga, about a forbidden love affair in 1940s Iceland; Elfar Adalsteins' Summer Light, and Then Comes the Night, adapted from the celebrated novel by Jón Kalman Stefánsson; Árni Ólafur Ásgeirsson's Wolka, about a young Polish woman who sacrifices everything on a journey to remote Iceland; and Rannveig Gagga Jónsdóttir's The Last Stitch 'n Bitch, a comedy about a group of female friends who reunite at a summerhouse.

There are also five new TV series currently in various stages of production, including Sisterhood, a crime drama produced by Sagafilm and directed by Silja Hauksdóttir; The Minister, a political drama also produced by Sagafilm and directed by Nanna Kristín Magnúsdóttir and Arnór Pálmi Arnarson; Entrapped, the third season of creator Baltasar Kormákur's Trapped franchise; The Journey, a Glassriver production directed by Baldvin Z.; and Fractures, also produced by Glassriver with Eva Sigurdardóttir at the helm.

Icelandic documentaries currently in production can be found here.