Current news
LET ME FALL selected for Toronto – short films VIKTORÍA and TO PLANT A FLAG also selected
Let Me Fall, writer/director Baldvin Z's new feature, will have its world premiere at the Toronto International Film Festival, where it will screen in the Contemporary World Cinema section. Short film Viktoría by Brúsi Ólason will have its international premiere in the festival's Short Cuts section and Norwegian/Icelandic short film To Plant a Flag by Bobbie Peers will have its world premiere, also in the Short Cuts section. The festival will run from September 6 – 16.
Let Me Fall synopsis: When 15-year-old Magnea meets Stella, everything changes. Stella's no-holds-barred lifestyle drags them both into a world of drugs, which brings serious consequences for each of them, and their relationship. Twelve years later their paths cross again, and a reckoning between them becomes unavoidable.
https://www.youtube.com/watch?v=PO_-KcTMQnU
Let Me Fall is directed by Baldvin Z and written by Baldvin Z and Birgir Örn Steinarsson. It is produced by Júlíus Kemp and Ingvar Thordarson for The Icelandic Film Company and coproduced by Markus Selin, Jukka Helle and Sophie Mahlo. Starring Elín Sif Halldórsdóttir, Eyrún Björk Jakobsdóttir, Thorsteinn Bachmann, Kristín Thóra Haraldsdóttir and Lára Jóhanna Jónsdóttir. The score of Let Me Fall is composed by Ólafur Arnalds, Jóhann Máni Jóhannsson is the film's director of photography and it is edited by Úlfur Teitur Traustason.
Viktoría premiered locally in March at the Stockfish Film Festival in Reykjavík, where it won the Shortfish Prize for Best Short Film.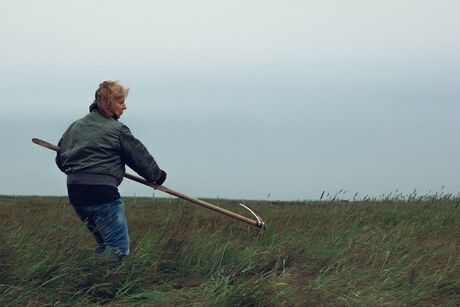 Viktoría synopsis: When her only employee leaves for better opportunities, Viktoria, a strong willed woman in her 60's, has to face running her dairy farm on her own. A farm that has been in her family for generations.
Viktoría is written and directed by Brúsi Ólason, who is also the film's editor. It stars Ingrid Jónsdóttir and is produced by Kári Úlfsson and Maggie Briggs for Kvarki Films and coproduced by Ingi Óskarsson. Director of photography is Margrét Vala Gudmundsdóttir and Dadi Freyr Pétursson composed the film's score.
To Plant a Flag synopsis: In preparation for the moon landing in 1969, NASA sent a team of astronauts to the lunar landscapes of Iceland. Their hi-tech training mission soon discovers what obstacles one can meet when facing an Icelandic sheep farmer.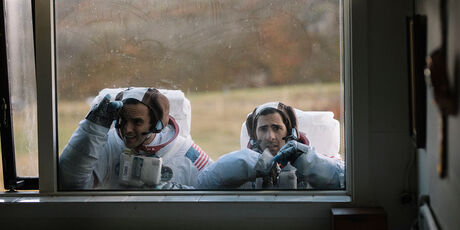 To Plant a Flag is written and directed by Bobbie Peers. It stars Jason Schwartzman and Jake Johnson with Ingvar E. Sigurdsson in a supporting role. It is produced by Ruben Thorkildsen and Henrik Hofstad for the Norwegian production company Ape & Bjørn and Skúli Malmquist for Icelandic production company Zik Zak Filmworks. Jakob Ingimundarson is the film's director of photography, which was shot in its entirety in Iceland.