Current news
THE GARDEN and LAST AND FIRST MEN screened at Thessaloniki
The Garden by Ragnar Bragason and Last and First Men by Jóhann Jóhannsson will be screened at the 62st Thessaloniki International Film Festival, which will take place online from November 5 – 15.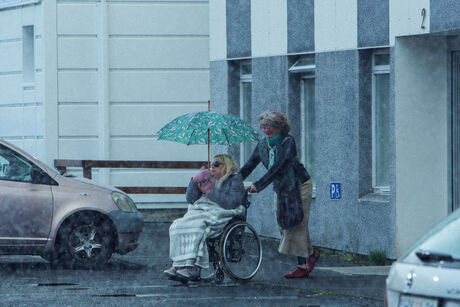 The Garden will be screened on November 7 in the Open Horizons section of the festival. The film follows Indíana Jónsdóttir, who lives in a large apartment block full of immigrants, whom she despises, and makes her living by preying upon the public welfare system. In her small private garden, she tends to her award-winning laburnum tree. When her only son turns up with a foreign girlfriend, Indíana's world is upended.
The Garden is written and directed by Ragnar Bragason and produced by Davíd Óskar Ólafssson for Mystery Production. It is coproduced by Beata Rzezniczek for the Polish production company Madants. The Garden was part of TIFF Industry Selects at Toronto International Film Festival, which took place in September 2019. The film was recently screened at Riga International Film Festival and is now screening, from November 5 - 8, at a hybrid version of Nordic Film Days in Lübeck, Germany.

Last and First Men, by the late Icelandic musician and film composer Jóhann Jóhannsson, will be screened on November 8 in the >>Film Forward section of Thessaloniki International Film Festival. The film explores zones of decay and ruin where great tragedies have occurred – places charged with symbolism. Throughout the film we sense a spectral presence, an entity that is attempting to communicate with us.
The film had its world premiere in the Berlinale Special section of the 70th Berlin International Film Festival (or Berlinale), which took place February 20 - March 1. The project, which was directed by Jóhannsson, began as a touring multimedia project that screened in concert halls as accompaniment to Jóhannsson's live orchestral score.
Last and First Men was produced by Jóhannsson, Thor S. Sigurjónsson and Sturla Brandth Grøvlen for Zik Zak Filmworks. International sales for the film are being handled by Films Boutique (gabor@filmsboutique.com)