Current news
A HISTORY OF ICELANDIC FILM – book launch in Reykjavík
A belated launch for Steve Gravestock's book, A History of Icelandic Film , was held at Bíó Paradís in Reykjavík 25th of October. The book, first published in 2019 by Toronto International Film Festival in participation with The Icelandic Film Centre and Business Iceland, is a comprehensive historical overview of Icelandic cinema.
The long awaited event was delayed due to the Covid epidemic. Gravestock introduced the book, followed by a Q&A with filmmakers Ragnar Bragason and Hlín Jóhannesdóttir.
Since 1999, Steve Gravestock has put the spotlight on Nordic features for TIFF as a senior programmer, where over 30 Icelandic films have been selected for the past 20 years. He has become one of the most influential international curator of films from the Nordic region and has curated national spotlights and retrospectives of Icelandic films throughout Canada, such as Wayward Heroes: A Survey of Modern Icelandic Cinema, a retrospective of ten Icelandic films. In 2022, he programmed the film component of Nordic Bridges, a nation-wide year-long celebration of Nordic culture, art, thought, literature and music.
A History of Icelandic Film focuses primarily on the rapid growth of feature-length fiction films that followed the establishment of the Icelandic Film Fund in 1979.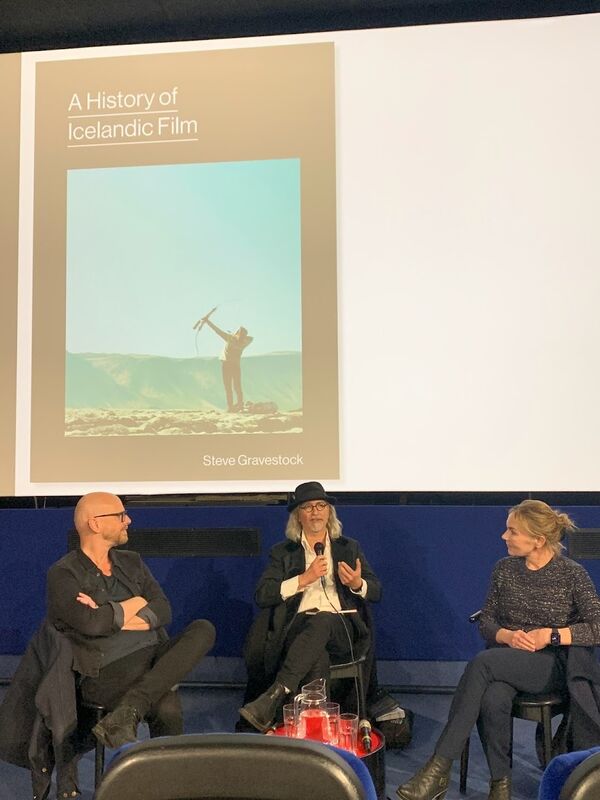 Gravestock charts the development of key filmmakers such as Fridrik Thór Friðiriksson (Children of Nature), Baltasar Kormákur (101 Reykjavík), Hrafn Gunlaugsson (When the Raven Flies), Ágúst Gudmundsson (Land and Sons), Kristín Jóhannesdóttir (As in Heaven), and Gudný Halldórsdóttir (Under the Glacier). He also focuses on the emergence of a new generation of filmmakers who are enjoying international recognition, like Grímur Hákonarson (Rams, The County), Gudmundur Arnar Gudmundsson (Heartstone), Rúnar Rúnarsson (Echo, Volcano), Benedikt Erlingsson (Woman at War), Hlynur Pálmason (A White, White Day), and Hafsteinn Gunnar Sigurðsson (Under the Tree), Ása Helga Hjörleifsdóttir (The Swan), and Ísold Uggadóttir (And Breathe Normally).
Additionally, Gravestock investigates distinctive Icelandic genre-movie traditions, such as the viking film, the folk comedy, and central themes, such as urban versus rural communities, as well as the prevalance of the supernatural throughout the cinema as a whole.