Current news
COP SECRET wins Prize of the Friends at Lübeck
The Icelandic film Cop Secret by Hannes Thór Halldórsson won the Prize of the Friends for best feature film debut at the 63rd Nordische Filmtage Lübeck . The festival took place from November 3 - 7 in Germany. Cop Secret was the festival's opening film.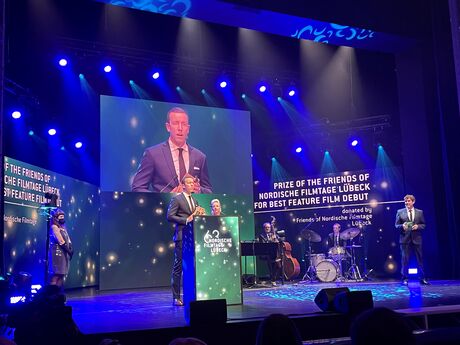 The prize was awarded for the first time in 2018. It is endowed with 7,500 euros, to help promote and motivate young talents from the North to bring interesting material and stories to the screen. Given away by the members of the Friends of the Nordic Film Days Lübeck. Each year it will be awarded to a best first feature film chosen from the sections "Feature Films" (in competition), "Children's and Youth Films" and "Filmforum".
Cop Secret follows a tough supercop who is fighting a inner struggle at the same time as he is investigating a string of bank robberies where nothing seems to have been stolen.
The film was written by Nína Petersen, Sverrir Thór Sverrison, and Halldórsson. The film was produced by Lilja Ósk Snorradóttir for Pegasus Pictures and stars Audunn Blöndal, Egill Einarsson, Steinunn Ólína Thorsteinsdóttir, Vivian Ólafsdóttir, Sverrir Thór Sverrisson, and Björn Hlynur Haraldsson. International sales for the film are being handled by Alief.