Current news
Gudmundur Arnar Gudmundsson's BEAUTIFUL BEINGS wins Berlin Europa Cinemas Label
Beautiful Beings, by Gudmundur Arnar Gudmundsson, has won the Europa Cinemas Label prize as Best European film in the Panorama section of the 72nd Berlin International Film Festival. Beautiful Beings will receive promotional support from Europa Cinemas to help its theatrical release across the group's network of exhibitors.
The jury statement reads as follows: "Guðmundsson's second feature is certainly a harsh look at a bunch of teenage boys struggling to find a way forward despite estrangement from their dysfunctional families. But it is the warmth alongside the violence that makes this a film that demands to be seen.
The audience is right with the boys as they deal with their emotions and friendships, but out of this toxic masculinity, Guðmundsson manages to find hope and lyricism, even using magical realism at times to create a very special atmosphere.
It is set in Iceland, but this is atypical of films from there – no sweeping landscapes this time but a series of industrial and urban locations captured with superb and inventive camerawork. Guðmundsson skilfully manages to achieve powerful performances from his young and inexperienced cast.
The themes explored are universal, and this film deserves to find its audience across Europe. The Europa Cinemas Label will help deliver that audience, we very much hope."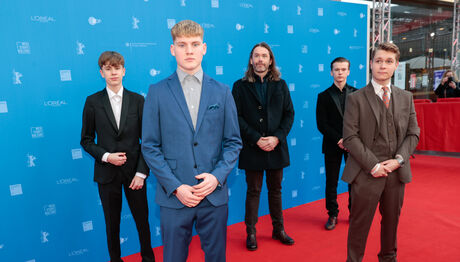 The film had its world premiere on February 11 and has since received very positive reviews from critics. See: Screen Daily, Upcoming, Filmuforia.
Beautiful Beings was written and directed by Gudmundur Arnar Gudmundsson, and is his second feature film. The film tells the story of Addi, a boy raised by a clairvoyant mother, who decides to adopt a bullied misfit into his gang of outsiders. Left to their own devices, the boys explore aggression and violence but also learn about loyalty and love. As their behavior escalates towards life-threatening situations, Addi begins to experience a series of dreamlike visions. Can his newfound intuition guide him and his friends back to a safer path, or will they dive irrevocably into further violence?

The film was produced by Anton Máni Svansson at Join Motion Pictures in Iceland, in coproduction with Motor Productions (Denmark), Hobab and Film i Väst (Sweden), Bastide Films (The Netherlands) and Negativ (Czech Republic). The film was supported by the Icelandic Film Centre, Iceland's Ministry of Industries and Innovation, the Icelandic National Broadcasting Service RÚV, Sena, Danish Film Institute, DR, Scanbox, Swedish Film Institute, Film i Väst, Netherlands Film Fund, Netherlands Film Production Incentive, Czech Film Fund, Nordisk Film & TV fond, and Eurimages. International sales are being handled by New Europe Film Sales.
---
The Label Jury consisted of Matthias Damm - Casablanca Filmkunsttheater, Nürnberg, Germany; Mathias Holtz - Folkets Hus och Parker, Stockholm, Sweden; Kristi Porila - Thule Kino, Kuressaare, Estonia, and Ana Šegrt - Art-kino, Rijeka, Croatia.