Current news
Icelandic film LAMB wins 2022 Nordic Council Film Prize
The 2022 Nordic Council Film Prize goes to the Icelandic film Lamb by director and screenwriter Valdimar Jóhannsson, screenwriter Sjón and producers Hrönn Kristinsdóttir and Sara Nassim. The work is described by the jury as a unique story of loss, grief and fear.
The prize was awarded in Helsinki on Tuesday evening, in connection with the Session of the Nordic Council. The prize was awarded by the Finnish Prime Minister, Sanna Marin.
The winner of the Nordic Council Film Prize receives a Nordlys statuette and DKK 300,000, which is shared equally between the winning film's director, screenwriters and producers – to acknowledge the fact that film as an art form is the result of co-operation between these three main functions.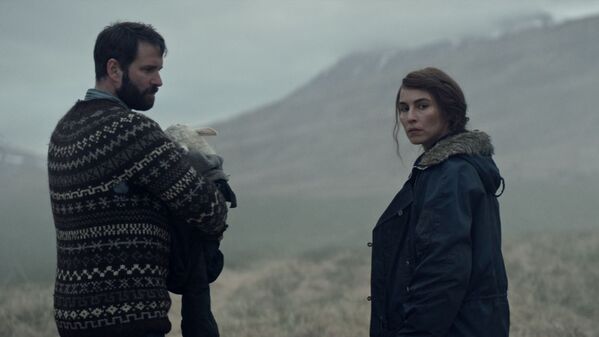 The script for Lamb, starring Noomi Rapace and Hilmir Snær Guðnason among others, was written by Icelandic author Sjón and the film's director, Valdimar Jóhannsson. The film is Jóhannsson's debut feature and premiered in Un Certain Regard in Cannes 2021 where it received the Prize of Originality.
Jury's rationale
In Lamb the director creates a unique tale of loss, grief and horror. The highly original story explores classic themes of man's interaction with mother nature and the consequences of defying her forces. It also deals with the beauty and brutality of parenthood and the extreme measures we may take to protect the happiness we feel entitled to.

The film is a disturbing and original cinematic experience. The animals' sensitivity to the slightest anomaly in their surroundings is used very effectively to create a sense of underlying threat, which is magnificently underscored by a constantly attentive yet unobtrusive camera and an eerie soundscape.

The incisive use of few meaningful elements to conjure an abiding sense of dread makes for a visually effective and atmospheric storytelling experience.

Lamb marks an impressive debut for director, Valdimar Jóhannsson.