Current news
Thorvaldur Kristjánssson selected for Shooting Stars 2023
The Icelandic actor Thorvaldur Kristjánsson has been selected for Shooting Stars 2023, an annual showcase of ten promising young European actors. The selection is made by European Film Promotion (EFP), a network of national organizations that promote cinema. They will be introduced to the international press, film industry and the audience during the 73rd Berlinale. The four-day tailormade promotion and networking programme (running 17 – 20 February 2023) is capped off with a celebration of the talent at an Awards Ceremony at the Berlinale Palast.
The European Shooting Stars 2023, eight women and two men, were selected from a pool of 27 nominees by an international jury, comprised of Polish director Jan Komasa, Dutch casting director Rebecca van Unen, Norwegian producer Maria Ekerhovd, Variety's international features editor Leo Barraclough from the UK and former Spanish Shooting Star Veronica Echegui. These five experts recognised the talents' remarkable potential for an international career based on several factors, including their stellar work in the feature films and drama series which were submitted for their nomination

The jury's reasoning for selecting Kristjánsson as one of this year's Shooting Stars reads as follows:
"From the first moment Iceland's Thorvaldur Kristjánsson appears on screen in Ása Helga Hjörleifsdóttir's A Letter From Helga he emanates charisma and completely inhabits the role of a love-sick farmer, raging with passion for an aspiring poetess, while restrained by the mores of 1940s rural Iceland. He combines a robust appearance with a vulnerability, which draws the audience to him, and keeps them on his side."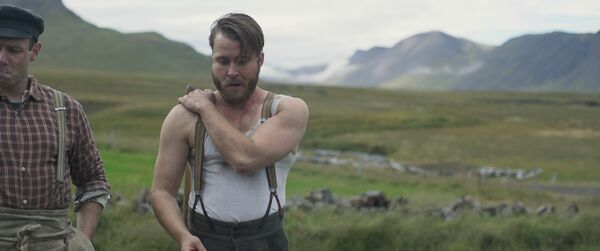 Thorvaldur Kristjánsson in his role in A Letter From Helga.
Thorvaldur Kristjánsson has a BFA degree in drama from The Juilliard School in New York, which was funded by scholarships and through the personal assistance of Academy Award winner and former Juilliard alumnus, Robin Williams.
Since graduating, he has been very active in his work life and was nominated as Best Leading Actor at The Icelandic Film and TV Academy Awards (Eddan) for his first feature film, Black's Game, and then won the prize in 2020 as Best Supporting Actor in a TV series for The Minister. Films such as I Remember You and Life in a Fishbowl were blockbuster hits in Iceland and a number of his films have screened in major international festivals.
Kristjánsson has also done voice-over work for animated films, including one of the leading roles in the short Yes-People, which was nominated for an Academy Award at the 2021 Oscars.
Kristjánsson has a notable on-stage career, having performed in Iceland's most renowned theatres, including The Icelandic National Theatre and Reykjavik City Theatre. He was nominated as Best Actor in a Leading Role at the Icelandic National Theatre Awards (Gríman) for his work in the play Curious Incident of the Dog in the Night-Time.
His latest film, the critically acclaimed A Letter from Helga, was released in 2022 and went straight to the top of the Icelandic box office list during its first weekend. It was screened in competition at Tallinn Black Nights Film Festival in November 2022.
Throughout its 25 plus years, European Shooting Stars has been an important stepping-stone for the selected talent's international careers – notable Shooting Stars of recent years include: Matilda de Angelis (Atlas, The Undoing), Bill Skarsgård (It, It Chapter 2), Carey Mulligan (She Said, The Dig, Promising Young Woman, The Great Gatsby), Alba Rohrwacher (Happy as Lazzaro), Oscar-winner Alicia Vikander (Beckett, Tomb Raider), Maisie Williams (Game of Thrones), Riz Ahmed (Encounter, Sound of Metal, Rogue One: A Star Wars Story, Mogul Mowgli), George MacKay (Munich – The Edge of War, 1917), Daniel Brühl (All Quiet on the Western Front) and Louis Hofmann (The Forger).
Over the years, the following Icelandic actors have been selected:
Ingvar E. Sigurdsson (1999).
Hilmir Snær Gudnason (2000).
Baltasar Kormákur (2001).
Margrét Vilhjálmsdóttir (2002).
Nína Dögg Filippusdóttir (2003).
Tómas Lemarquis (2004).
Álfrún Örnólfsdóttir (2005).
Björn Hlynur Haraldsson (2006).
Gísli Örn Gardarsson (2007).
Hilmar Gudjónsson (2012).
Edda Magnason (2014, Icelandic/Swedish actress representing Sweden).
Hera Hilmar (2015).
Atli Óskar Fjalarsson (2016).
Kristín Þóra Haraldsdóttir (2019).


Click here for further information regarding EFP's Shooting Stars 2023 .